Our Story
Picture this. You are late for your date but you have been wrestling with your hair for an ungodly amount of time.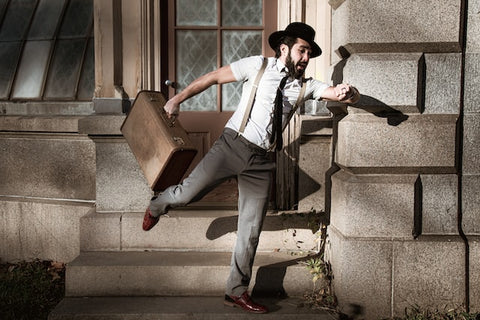 At last, you step out; only to be battered with strong winds, or worse, an unforeseen shower. You show up at your date with hair more dishevelled than a crumpled clown wig. Just so you know, Da'Dude wouldn't let any of that happen.
Our epic hairstyling journey began in Varberg, a windy, coastal surfing town in Sweden when my wife Angelika's mother Eva Ludwig opened a hair salon in 1965. When Eva retired after nearly 50 years, Angelika followed up on her mother's passion by taking charge of the salon. Soon enough, she sensed something woefully amiss in her hairdressing arsenal. That's when Angelika and I set out to create a range of hair products for men that would more than fill the gap in a highly competitive marketplace.
Our first leap into the daunting world of men's hairstyling products was with Da'Hair Spray, under the funky new brand Da'Dude. This was the beginning of our struggle through steep, treacherous terrain, where the peaks are dominated by a handful of billion-dollar brands.
When Da'Hair Spray didn't take off initially, our second product Da'Wax, which is still our flag-ship hair wax, swung to the rescue. This unique product stood out in the market, as much for its quality and performance as for its distinct packaging — compact bamboo tub tucked in a biodegradable hessian jute bag. A container crafted so beautifully that you would not part with it after using its content, but repurpose the tub to keep coins or spices and the bag to store sweets or herbs, for instance. Navigating its way through the cutthroat market, over time, we released a range of men's hairstyling products based on customer feedback.
Since Da'Dude's clientele rests majorly in Europe, where the cold weather often mingles with gusty wind and rains, each of its products bears the properties to withstand the harsh elements of nature. Our products are made in Sweden using the finest ingredients sourced from Europe, coupled with committed service, distilled from the storied family tradition in haircare and customer care.
As Angelika Young asserts, "Looking Great, Feeling Good are four beautifully paired, loaded words that capture the entire spectrum of emotions that Da'Dude unlocks in our customers. Much like self-love, these four outcome-oriented words have rested at the heart of our brand identity, purpose, and evolution."
She believes grooming is an everyday expression of self-love. "Just like treating yourself to a delicious healthy meal or a relaxing restorative massage. The very act of grooming too makes you feel better, but it also makes you look great in the bargain," she elaborates with glee. "You see, when you look great, you feel great, and the positive feedback loop kicks in. Cruising on a happy high, you smile more, frown less, and suddenly, your roads are paved with possibilities, not futilities."
She further explains, "It's a lesson in life as old as time, and it sure takes time for us to learn. That the greatest love story is the one we have with ourselves. The one that truly lasts a lifetime. The one in which we learn to accept and love ourselves deeply so that we are free to love others genuinely."
Our vision is for you to recognise your own beauty. Seeing your own beauty is a superpower, and Da'Dude is the key to unlocking that self-love superpower as it brings out your coolest, dude-est side through your hairstyle.
You need to be good with your hair because you wear it every day. Whether it's maintaining a quiff or a pompadour, or taming an unruly shaggy mane, we have got you covered with its easy-to-use, long-lasting, non-greasy, natural finish products. Celebrating your individuality and your zest for life has been at the heart of our brand identity and its evolution. We are honoured and happy to play a small part in your journey of self-discovery and self-love and in making this world happier.
Co-Founder of DA'DUDE and YoungHair Brands
"We believe in a hair revolution – a path to loving yourself more, so you can be more loving to others."