---
Da'Dude Da' Wax Very Strong Hold Men's Styling Hair Wax - Natural Matte Finish with Texture and Separation - Best Salon Professional Product in a Delux Wooden Gift Tub - 100ml
---
Da'Dude Da' Wax Very Strong Hold Men's Styling Hair Wax - Natural Matte Finish with Texture and Separation - Best Salon Professional Product in a Delux Wooden Gift Tub - 100ml
---
Da'Dude Da' Wax Very Strong Hold Men's Styling Hair Wax - Natural Matte Finish with Texture and Separation - Best Salon Professional Product in a Delux Wooden Gift Tub - 100ml
---
YouTubers going crazy about Da'Wax!
DISCOVER THIS HIDDEN TREASURE because you deserve to look good! Try this top notch pliable cream styling wax that our loyal customers are RAVING about! I know it is expensive, but it will last least three times longer than most other brands. As a result, you will save money over time.
DIRECT FROM THE MANUFACTURER & ONLY AVAILABLE ONLINE! Properly applied, our beeswax formula works like magic on thick, thin, fine or normal hair types. From short to medium lengths. It adds texture, structure, separation, whether your style is a messy bed-head messy or well-groomed finish. Moreover, it gives you the ability to increase volume and structure. Shape and sculpt or re-style as you wish!
YOU DESERVE TO LOOK GOOD SO TREAT YOURSELF TO SOMETHING SPECIAL! Why not try this top notch pliable matt styling cream wax that customers are RAVING about! When you discover its superior natural finish you will forget about your all other products. Including gel, pomade, putty, paste, mousse, fibre, serum, cream, spray, oil or clay mens hair products.
YOU CAN BE CONFIDENT THAT YOU HAVE MADE THE RIGHT CHOICE! We are a small family business who can only manufacture a limited number of tubs each year. We highly value every customer (that's why we guarantee satisfaction and personally answering every email within 12 hours).
SULFATE, PARABEN ANDPHTHALATES FREE. PLUS NOT TESTED ON ANIMALS - safely made in the SWEDEN in a beautifully crafted, eco-friendly packaging. Ideal gift for women, men or kids.
 
 
Aqua, Petrolatum, Cera Alba(Beeswax), Copernicia Cerifera(Carnauba), Ceteareth-22, Candilila Cera, Polyglyceryl-3 Polyricinoleate, VP/VA Copolymer, Lanolin, Sorbitol, Octyldodecyl Myristate, Parfum, Phenoxyethanol, Caprylyl Glycol, Laurtrimonium Chloride
Q: How does it compare other top quality hair wax products like Hairbond, Hanz de fuko, and label.M?
A: It is comparable and better in some ways to other top class hair wax products like Hairbond, Hanz de fuko, label.M and Vilain. The main two differences are 1) Da'Wax has a stronger hold 2) It's scent is more subtle and less overpowering.
Q: Can you re-work the shape of your hair with this product during the day?
A: You can re-work the shape of your hair, by wetting your hair a bit. Just rub a bit of water on your hands and then run it through your hair. The water moisture will soften the wax temporary before hardening again soon after.
Q: Is this an organic hair wax, 100% natural?
A: Da'Wax is not an organic hair wax. The main ingredients are natural waxes but I would not say it uses 100% natural ingredients because we are forced to use a small amount of stabilizers and preservatives to ensure consistent results. I believe it is much better than 95% of waxes on the market because you only need to use a very small amount. Plus, it does not contain Parabens, Sulfates or Phthalates.
Q: Does it wash out easily at the end of the day?
A: Yes it does. Our Da'Wax is easy to wash out and does not leave any residues or white flakes.
Q: Do you supply free samples by any chance?
A: We do now offer free small sample sizes. Email angelika@younghair.net with your full name and complete address and I will send you a small sample size.
Q: How does this work on short and thick asian hair?
A: DA'WAX works so well on Asian hair we intend to start selling it in China and Japan. In order to get the best results, we recommend applying it on clean hair. Because of your thickness, you would need 2 x pea-size amounts instead of one. Any tips or problems then I am confident that I will be able to help because I am a professional hairstylist and salon owner.
Q: What does this smell like?
A: We would describe the fragrance of our DA'WAX as fresh woody pine. However, due to fact you would only use a very small amount, this scent is quite subtle and tends to fade after several hours. Smell is very subjective. However, we monitor all feedback to see if we can make improvements that are acceptable to the majority of our customers. At the moment, 97% of our customers like the current fragrance. As result, we have no plans to change it.
Q: Does it leave the hair greasy?
A: We carry out extensive testing, especially in my hair salon on all types of hair and the only way we get horrible results is when we use too much! Or alternatively, you apply the wax straight to your hair without rubbing it between your hands first. That is why I strongly recommend using a pea-sized amount to start with. We send out a PDF with all purchases that emphasizes to start with very little. After all, you can always add a bit more, if needed.
Q: Is this product only for men?
A: Certainly not! It is for men and women. It is only marketed towards men because they buy more hair wax than women.
I am a woman and I use it daily.
Q: Is this product tested on animals? Does it contain bee wax?
A: We are animal lovers and are strictly against all forms of animal testing for all our product hair range. We do not even run the harmless gold standard comedogenic test which is a test to see if our products clogs pores on a rabbit's ear! We do use beeswax, along with 2 other natural waxes - Brazil Wax, and Carnauba Wax. We fully disclose all of our ingredients in descending order of predominance by weight for Da'Wax on our Amazon page. However, I have cut and pasted it below for your convenience.
Aqua, Petrolatum, Beeswax, Brazil Wax, Ceteareth-22, Carnauba Wax, Polyglyceryl-3, Polyricinoleate, VP/VA Copolymer, Lanolin, Sorbitol, Octyldodcecyl, Myristate, Parfum, Phenoxyethanol, Caprylyl Glycol, Laurtrimonium Chloride
Q: Does the wax have a "use by" date?
A: Once Da'Wax has been opened it has 12 months use by date because like all waxes it will dry out after long exposure to air. Some customers prefer our wax when it has dried out a bit, but we strongly recommend that whenever you use DA'WAX that you tightened the lid firmly to prevent air getting into the container.
YOUR HAIR IS
UNIQUE & BEAUTIFUL  
DON'T MISS! THIS WAX WORKS LIKE MAGIC.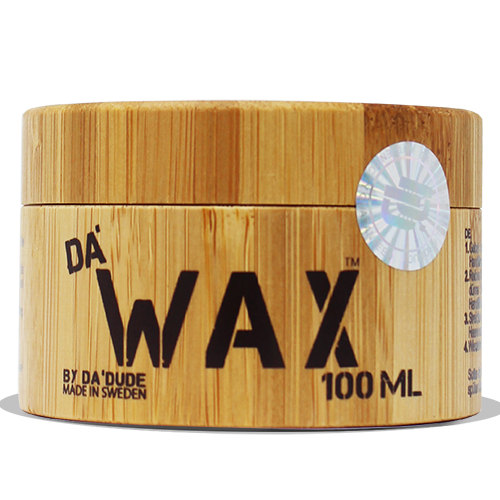 LASTS THREE TIMES LONGER THAN OTHER BRANDS.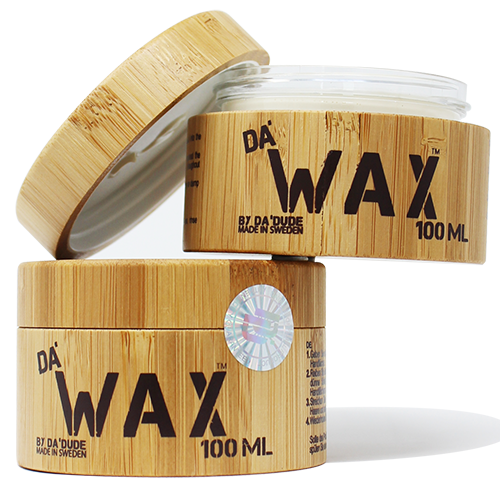 "What customers say about Da'Wax"
"I bought this for my husband as he uses the hair spray already. I was really impressed with the packaging. It's so cool in a bamboo type wood and looks very classy. Something I like to have on display in our bedroom. The best thing about the product is that you hardly need any to make a difference. I just put a tiny bit on my fingertips and can style his hair. I also tried it myself as I have long curly hair and just a weeny bit on the ends controlled my frizz. Definitely as good as the spray if not better I'd highly recommend this wax."
Imogen
Sept 29, 2015
"Having used many types of hair wax over the years, I have to say I'm really impressed with this product. The smell is great, and it holds my hair as I styled it all day long, and the small amount you have to apply when styling says a lot about the quality of the product....Great product!"
Michael B.
Sept 29, 2015
"Having really difficult hair to style I've tried lots of different styling products over the years and some have worked better than others. I have to say though that this has seriously impressed me, it does exactly what it says; giving an extreme hold that lasts all day and it also washes out easily. This is probably the best hair styling product that I have ever used and I can highly recommend it, very happy!"
Alan B.
Sept 28, 2015
---
Da'Dude Da' Wax Very Strong Hold Men's Styling Hair Wax - Natural Matte Finish with Texture and Separation - Best Salon Professional Product in a Delux Wooden Gift Tub - 100ml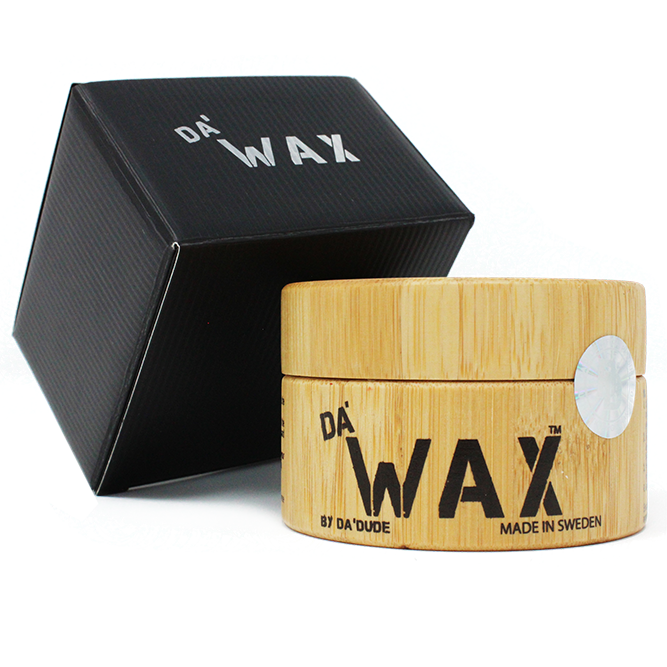 Spread the good news about Da'Wax!
Share us on Social Media
Spread the good news about Da'Wax!
Share us on Social Media
Spread the good news about Da'Wax!
Share us on Social Media