---
Da'Dude Da'Hair Spray for Men Strong Hold Hairspray with Matte Finish - Large 400 ml
---
Da'Dude Da'Hair Spray for Men Strong Hold Hairspray with Matte Finish - Large 400 ml
---
Da'Dude Da'Hair Spray for Men Strong Hold Hairspray with Matte Finish - Large 400 ml
---
YouTubers going crazy about Da'Hair Spray!
EXCELLENT MATT LOOK WITH STRONG HOLD - High wind resistance, non-shiny, and a firm freeze hold even in a rain shower!
FRUITY FRESH MALE SCENT WITH UV PROTECTION - A clean masculine fragrance your friends will love!
SUITABLE FOR THIN, FINE, NORMAL & THICK HAIR - Don't worry, your hair type is covered. Adds extra hold to our premium Da' Wax
EASY TO WASH - 100% VEGAN & NOT TESTED ON ANIMALS - It has been specifically designed for gentlemen but is greatly appreciated by women. Shampoos out easily and leaves no flaky residues.
BEST SALON PROFESSIONAL STYLING PRODUCT with a 100% satisfaction gent's agreement. (We are a small family business that answers all emails within 12 hours.)
Alcohol Denat., Dimethyl Ether, Octylacrylamide/Acrylates/Butylaminoethyl Methacrylate Copolymer, Aqua, VP/VA Copolymer, Aminomethyl Propanol, Potassium Hydroxide, Polysorbate 20, C12-15 Alkyl Benzoate, Triethyl Citrate, Trimethylsiloxyphenyl Dimethicone, Ethylhexyl Dimethyl PABA, Parfum.
Q: Does this product make your hair shiny?
A: Da'Hair Spray has a matte non-shiny finish. Our hairspray formulation was made to give you a natural look, so we avoided any kind of substance that would leave a shine. However, it is very important that you use it sparingly. Short burst of 1 to 2 seconds whilst your spraying hand is moving. If you need a stronger hold wait 45 seconds, then give it another short burst. Each time you do this, your hold will get stronger and the matte finish will remain.
Q: Does it cause a greasy forehead? Is the hairspray heat resistant so it doesn't melt onto my forehead in summer?
A: No - it definitely will NOT give you a greasy forehead. Nor will it melt onto your forehead in the summer. With every purchase we send out a PDF showing how to get the best out of Da'Hair Spray and avoid common pitfalls. The main thing, is to realize that this is a strong hold professional hairspray. So use it sparingly. Even though the spray is strong, you can give yourself a short burst, then wait 40 seconds then spray again. Each time you do this, you will build up another layer of strength. Give it a try, I don't think you will be disappointed.
Q: Is this available in UK stores?
A: Da'Hair Spray by Da'Dude is only available online and is not available in UK stores. It is made in Sweden but it is shipped by a local UK warehouse. so you receive it within 3 to 4 working days.
Q: Is this suitable for a woman with a thin straight layered bob hairstyle as I need something to texturise what little I've got.
A: Our Da'Hair Spray will give you more hold and volume than texture. However, to give you the results I think you desire, I would shake your head when you apply the spray then use your hands to quickly beef it up to shape. You must use it sparingly.
I am tempted to suggest using DA'Salt Water Spray, which would give you much more texture and grittiness, but with you thin hair it may weigh it down too much.
Q: Does this hairspray weigh down light hair?
A: Da'Hair Spray will be ideal for your hair, because are a Swedish manufacturer who originally formulated it for Swedish hair which is generally fine and light like yours. However, you must apply our hairspray correctly, that is:
a) Keep the spraying hand at least 10 to 12 cm away from your hair.
b) Always spray with short 2 to 3 seconds burst whilst moving the spraying hand (avoid spraying it in one area)
c) If you want a stronger hold, allow the first layer to dry before repeating.
We believe Da'Hair Spray is the best 'finishing hair spray" in Europe. You can easily find cheaper versions, but you will not find one that is more suitable for your hair.
Q: Does anybody use this stuff in conjunction with the Da'Dude Wax? Will it it end up looking a bit greasy if I use both?
A: Da'Wax and Da'Hair Spray in our minds (Manufacturer in Sweden) perfectly complement each other provided they are used properly. Let me reassure you that, they do not leave a shine or is greasy when you both together, providing you use a little bit of both. We have lots of customers who use both for the ultimate all-day-long hold - hopefully some them will reply to your question to support what I say.
Da'Hair Spray must be used sparingly. Always move your spraying hand. A two to three second burst is usually sufficient. After 40 seconds, you can give your hair another burst if you want an even stronger hold. Due the alcohol content, the spray first appears on the hair with a slight shine. But when the alcohol evaporates the finish is matte.
If you need any tips or run into difficulties, please email me and I will give you specific help when I know your hair type, quality and desired hair style.
Q: What does this smell like?
A: Smell is very subjective, but I wouldn't call our hairspray bad smelling at all. Instead, I would describe a fresh green fragrance.
In all honesty, if you think the one previously purchased was not good, then I would not buy it again because our fragrance has not changed.
Q: Is this product sent from the UK or Swedish warehouse?
A: This product is manufactured in Sweden then transported to Amazon and stored in their warehouses in the UK.
Q: Is it considered gay to buy a hair spray like this? I saw a youtube review and that guy was gay :/
A: We are grateful to anybody who buys our hairspray.
Q: Can I combine with Da'Salt Water Spray?
A: Yes - indeed! DA'HAIR SPRAY along with DA'SALT WATER SPRAY is a great combination. The volume the salt water spray will give, will be locked into place with the hairspray.
Q: Hi I brought da'wax extra strong hold hair styling wax, the salt water spray and this spray too. How should I use all 3 together to keep my hair up?
A: Firstly, I am assuming your hair either thin or normal thickness and is short to medium length. Given my assumptions, for best results follow the 7 steps below.
1) Wash your hair and towel dry it.
2) Whilst your hair is still damp give it 5 to 8 squirts of Da'Salt Water Spray. Make sure each squirt results in the salt water spray being evenly distributed over your hair.
3) Blow dry your hair into your desired shape using your hands or a brush.
4) Use one finger to scoop out one pea-size amount DA'WAX from the tub. Then place this small amount into the palm your other hand. Rub the palms hands vigorously together - this action will create heat which will, in turn, melt the wax and allow it to be evenly distributed.
5) Run your wax covered hands through your hair. Starting from the back of your head then working towards your front. Use your hands or your brush to shape your hair into its final position.
6) Holding Da'Hair Spray at arm's length, give your hair 3 short bursts. Make sure your spraying hand is always moving, so you avoid concentrating the spray in one spot. ( Repeat after 5 seconds if you want an even stronger hold)
7) You're done! Don't touch your hair after this.
I urge you to experiment with the varying amounts of each product slightly. Although, be warned that if you use too much of any our products it will lead to poor results.
If you want even more specific instructions, please let me know you desired style, length and thickness of your hair?
LOOK GOOD, FEEL GOOD
LOOK YOUR BEST EVERY DAY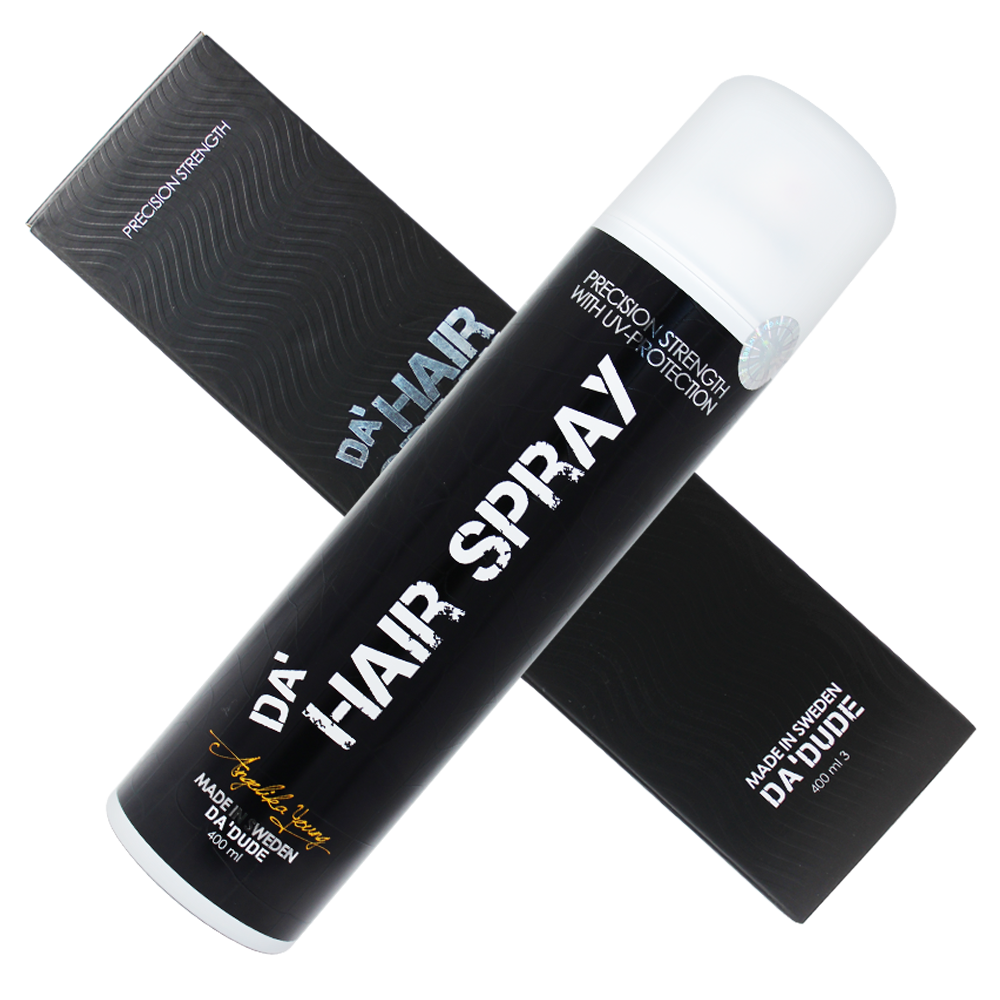 BECOME MORE LOVABLE WHEN YOU SMELL GREAT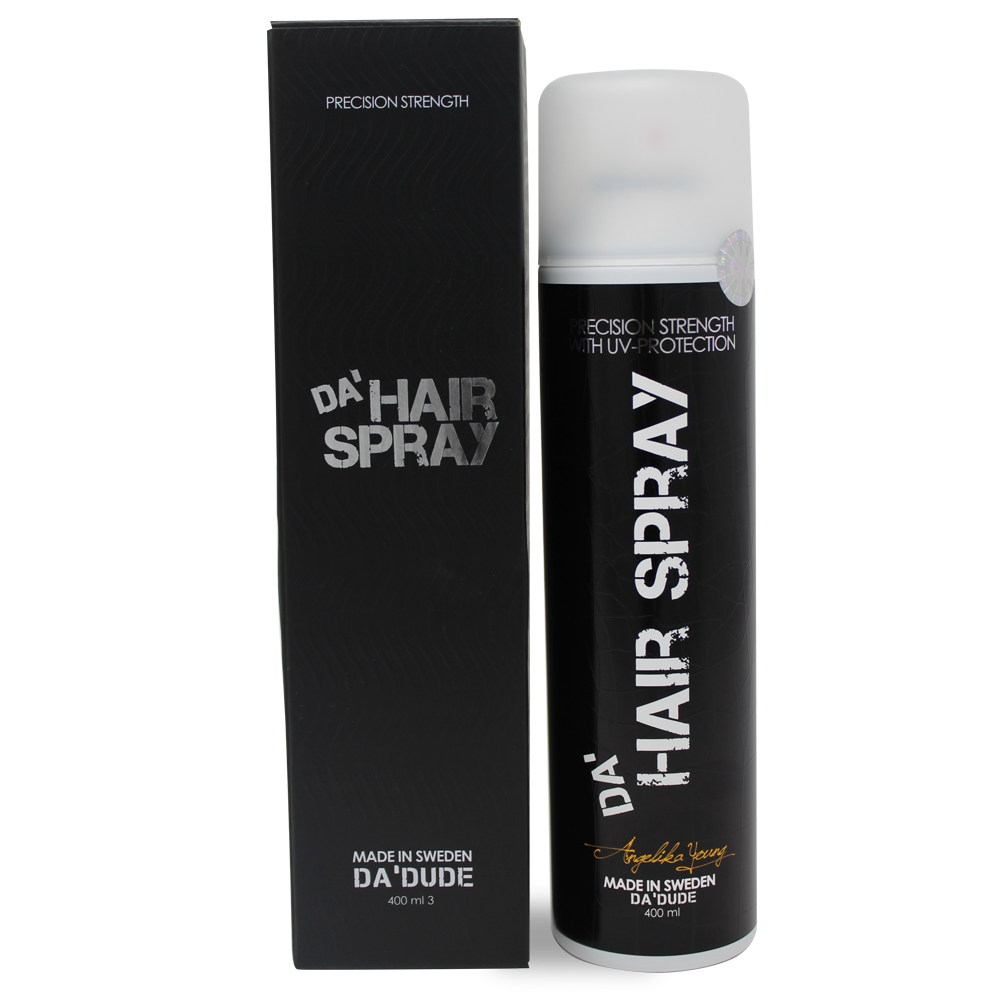 STAND OUT FROM THE CROWD WITH DA'HAIR SPRAY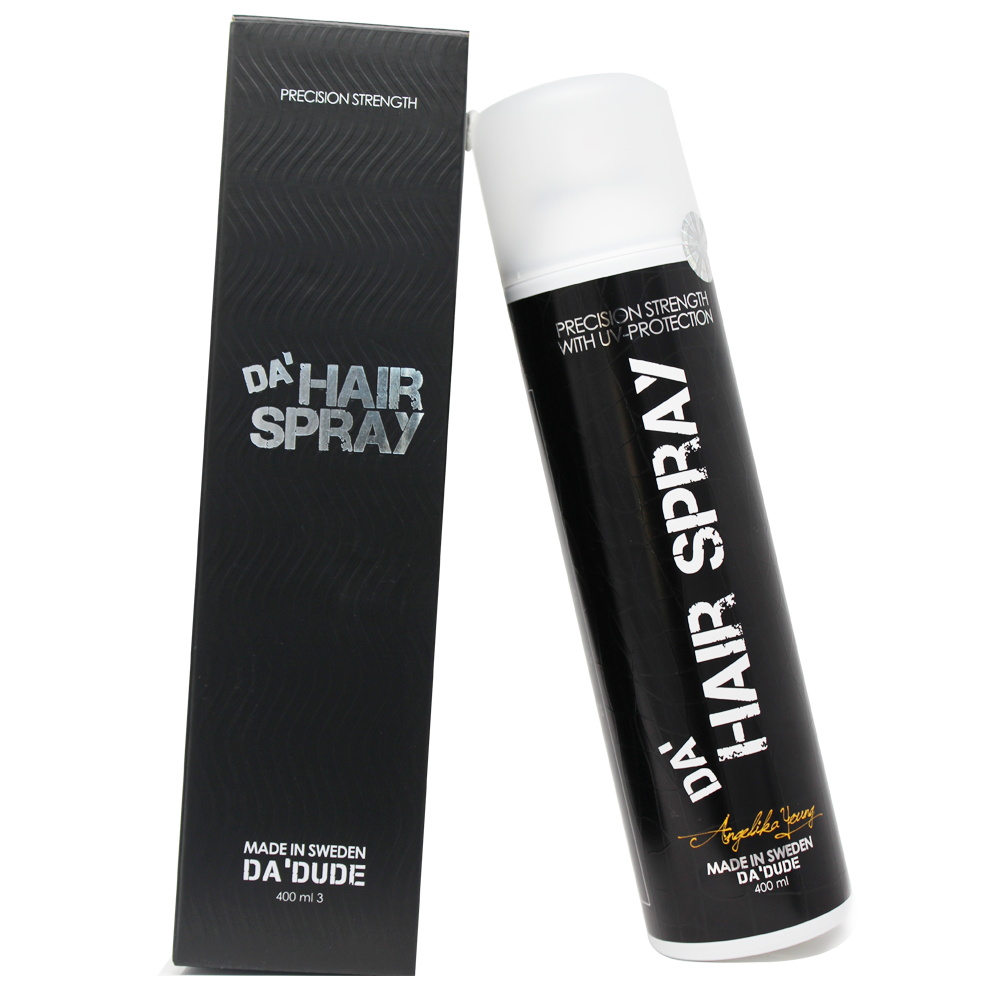 "What customers say about Da'Hair Spray"
"This is a great product very pleased. Bought it for my son who is going through his boy band phase and experimenting with some interesting hairstyles. Strong hold with out any stickiness . Glad I bought it because I use it too! will definitely purchase again."
Suzy2
May 4, 2015
"I love this product! My boyfriend and I use it. It gives volume to my hair making it feel and look thicker and it stops it being static too. The can was bigger than I was expecting so It's going to last a while but will be buying again when it runs out!"
theyogacook
May 3, 2015
"Awesome product been using on the shelf hairspray for years, after using this product I have experienced no itchyness no flakes,my hair no longer looks greasy, it's lasts all day and smells great! I'll continue to use and buy this product for sure! 5 stars!"
Ben G.
May 5, 2015
---
Da'Dude Da'Hair Spray for Men Strong Hold Hairspray with Matte Finish - Large 400 ml
Spread the good news about Da'Hair Spray!
Share us on Social Media
Spread the good news about Da'Hair Spray!
Share us on Social Media
Spread the good news about Da'Hair Spray!
Share us on Social Media