Slicked Back Hair for Men - How to Achieve this Style
Nov 05,2018
Slicked Back Hair for Men
Looking for a hairstyle that's both trendy and professional?
Slicked back
hair is the gift that keeps on giving. You will definitely agree that it is the perfect hairstyle for work. However, if you style it
correctly
, your slicked-back locks will stay
firmly
in place as you party into the night.
Do you want to create a stylish new look? Or tame your curls into submission? A slicked-back hairstyle is the way to go.
So, without further ado, here's how to slick back your hair:
Wash your hair, then towel-dry so it's still a bit damp.

Comb your hair towards the back of your head, smoothing it over with your hand.

Allow your hair to air dry if you prefer a natural, looser style. You can blow-dry your locks into place to make sure the "slick" holds.

Once your hair is completely dry, you can apply a

strong hold hairspray

 for a super firm hold. If you prefer to keep some of the natural texture in your hair, you can leave it as it is.
To help keep lock your slicked back hairstyle, check out this cool video of our Da'Hairspray. The tips should help you achieve your desired style that stays in place for the rest of the day! 
Commonly asked questions about slicked back hair
Slicked-back hair has become incredibly fashionable in recent years. So if you want to jump aboard the style train, there are a few things you need to know.
To comb or not to comb?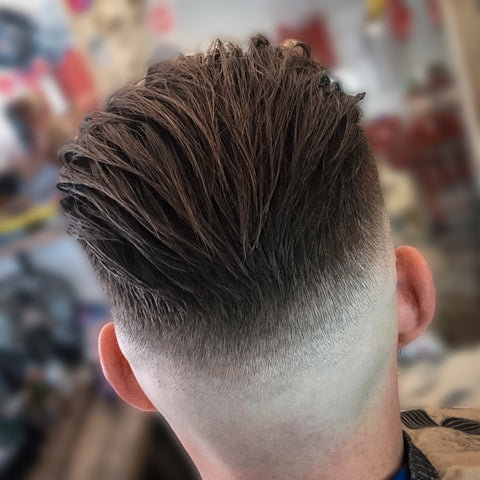 Whether to style using a comb or your fingers is entirely your choice. Using your fingers is certainly the easiest way to move your hair around. You can distribute the product evenly, but it can be messy. If you don't want to get your hands dirty, you can use a comb to style your hair instead. Bear in mind that the finer the comb's teeth, the neater your hairstyle will appear.
Clay, wax, or pomade?
Hair wax is generally the best product to use when slicking back your hair, as it's so versatile and easy to apply. Clay should be used sparingly, as it dries out your hair and makes it more difficult to style. But, pomade can be challenging to work with. They are usually oil-based and are notoriously hard to wash out. With our Da'Wax Styling Wax, there is no risk of flattening your natural waves or curls. Moreover, you won't lose that all-important volume.
Can you slick back curly hair?
Yes,
absolutely
. Slicked back hair is perfect for those with
unruly
curls, and it brings a unique twist to the style. It's best to slick the hair back when it's still
slightly
wet after the shower. Work the product through with your hands. Afterward, you'll want to blow-dry the hair backward to create a smooth surface. Avoid using a comb or brushing too hard with your fingers, as this could flatten those
beach waves.
Voila! Now you can rock a super slick style that will hold all day long, whatever the weather. Slicked back hair creates a timeless look that will always be in fashion. Let
Da'Dude Da'Wax Extra Strong Hold Hair Styling Wax
help you with your styling.
For the latest updates and upcoming promotions, like our Facebook Page @DaDudehair and follow us on Instagram @dadudehair.
Next Read - Classy Hair Cuts for Men
Comment