Recommended Hair Products for your French Crop
Nov 19,2018
The French Crop Hairstyle
Hey there, style-savvy dudes! Looking for a fresh and funky update on a classic cut? The French crop, a timeless hairstyle for men, is versatile, low-maintenance, and easy to style. But don't let its traditional appeal fool you. With a few modern tweaks and the right products, you can customize this cut to suit your unique style and face shape.
Whether you're working from home, catching a game with your mates, or hopping onto a virtual meeting, we've got you covered. Here's how you can inject a dose of cool into your French crop and keep it looking stylishly on-trend. Ready to rock your locks? Let's dive in!
How to customise your French crop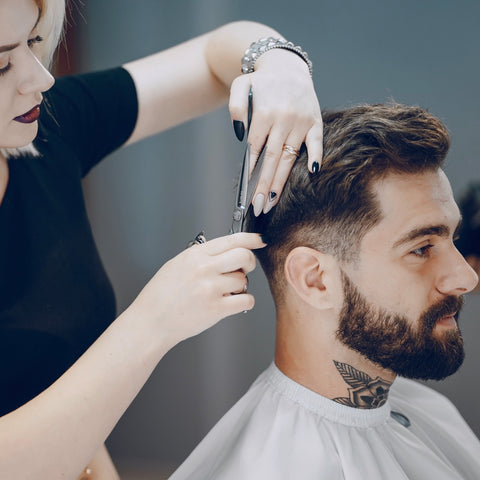 Even if it's a short hairstyle, you still can customise it to inject some of your personality and style. If you crave more versatility, ask your hairstylist to leave the hair on top at a slightly longer length. The longer lengths on top are screaming for styling!
Fringe Benefits
Fancy a change? Mix things up with a different fringe style. Choose a blunt, ragged, or straight fringe to frame your face differently. Whether you want your fringe to fall over your face or prefer a side sweep, you can easily switch up your look to suit your mood or occasion. Remember, your hair is your canvas - be bold, be creative!
Volumize Your Vibe
Who says thin or thinning hair can't have a bit of oomph? Not us! Use a dab of hair wax to add volume and fullness to your hair. Start small and work more in as you need—it's easier to add than take away. For an office day or a night out, a volumized French crop is sure to turn heads.
Add Texture with Da'Salt Water Spray
Want to add some texture to your hair but still keep it looking natural? Say hello to our Da'Salt Water Spray. It gives you control over your style without restricting your hair's natural tendencies. It's a fantastic way to enhance your hair's natural look while still maintaining control. Remember to balance your style between the back, sides, and top for maximum impact.
Check out this cool video by
thatsNathan
on how to add volume and texture to your hair.
Fade Into Style
For a contemporary spin on the classic French Crop, ask your stylist about fades. Fades cut the hair so that there's little or no hair at the back and sides, with the hair getting longer towards the top of the head, creating a faded effect. High fades are more extreme, while low fades are more tapered. Either way, a fade adds a modern edge to your French crop.
Working from home doesn't mean compromising on style. With these tips and tricks, you can keep your French crop looking fresh, funky, and totally on-trend. Whether you're hopping onto a Zoom call or catching a train to work, remember: your hair is your crowning glory—so wear it with pride!
So, ready to give your French crop a modern twist? Grab your Da'Salt Water Spray and let's get styling!
For the latest updates and upcoming promotions like our Facebook Page @DaDudehair and follow us on Instagram @dadudehair.
Comment